ADD/ADHD: It's Not Just For Kids

A couple of months ago I posted about a natural alternative to prescription medication for kids with ADD/ADHD. It was a blend of essential oilsRead More

Learn More

Beber cerveja pode ajudar a te proteger de doenças como Alzheimer e Parkinson

Das notícias que amamos! Uma substância química chamada xanthohumol, presente em algumas plantas secas usadas na fabricação de cervejas e alguns refrigerantes, pode ajudar aRead More

Learn More
A couple of months ago I posted about a natural alternative to prescription medication for kids with ADD/ADHD. It was a blend of essential oils that my sister Dori created for her son Jed, an energetic 7-year-old who was failing in school and labeled a "problem child" by the public education system.
Not only has "Jeddy's Blend" turned Jed's life around, it's also touched the lives of thousands all over the world in just a few short months. And after reading many testimonials from Dori's website (RichesToRagsByDori.com), I've come to realize it's not just KIDS that deal with ADD/ADHD, but many, many ADULTS suffer as well.
As a matter of fact, ADD/ADHD runs rampant in my family. Myself, two of my sons, my daughter, and several of my nieces and nephews suffer from it to varying degrees. Adults actually have a harder time dealing with this disorder because the older you get, the more demands are placed on you. Pursuing a career, raising a family, running a household can be challenging for anyone, but if you have ADD/ADHD, it can feel downright impossible.

Add to that the fact that many myths and misconceptions out there about adults with ADD/ADHD and it's a tough thing to overcome.
Here are just a few of the more prevalent ones:
MYTH: ADD/ADHD is just a lack of willpower. Persons with ADD/ADHD focus well on things that interest them; they could focus on any other tasks if they really wanted to.
FACT: ADD/ADHD looks very much like a willpower problem, but it isn't. It's essentially a chemical problem in the management systems of the brain.
MYTH: ADD/ADHD isn't a real medical disorder
FACT: ADD/ADHD has been recognized as a legitimate diagnosis by major medical, psychological, and educational organizations, including the National Institutes of Health and the U.S. Department of Education.
MYTH: Someone can't have ADD/ADHD and also have depression, anxiety, or other psychiatric problems.
FACT: A person with ADD/ADHD is six times more likely to have another psychiatric or learning disorder than most other people. ADD/ADHD usually overlaps with other disorders.
MYTH: Unless you have been diagnosed with ADD/ADHD as a child, you can't have it as an adult.
FACT: Many adults struggle all their lives with unrecognized ADD/ADHD impairments. They haven't received help because they assumed that their chronic difficulties, like depression or anxiety, were caused by other impairments that did not respond to usual treatment.
Source: Dr. Thomas E. Brown, Attention Deficit Disorder: The Unfocused Mind in Children and Adults
The good news is that, despite the abundance of myths and misconceptions, the challenges of attention deficit disorder can be overcome.
And now there's a powerful, all-natural tool to help!
On June 30th Spark Naturals made Jeddy's Blend available for purchase on their website in 5ml and 15 ml bottles. Kudos to Spark Naturals for recognizing the need for a natural alternative to ADD/ADHD and helping Dori get the word out to many more people (kids AND adults) who might benefit!
Here are just a few of the unsolicited testimonials that Dori has received from people who have tried Jeddy's Blend and have seen real results:
"Jeddy's blend has been awesome. Yesterday I had a horrible day with the verge of many panic attacks (I suffer from ADHD, Anxiety) and this blend prevented many full blown panic attacks and many crying spells. It is a winner for mommy :)"
"This stuff is amazing! I was sort of scared because I wanted it to work so much. The first night that I used it, when I smelled it I got tingles, honestly! I used it and I slept so soundly. I used it the next day in conjunction with my medication and I was so 'calm' for lack of a better word. I have been using the blend daily and just started to wean myself down on the medication. I have been using it on my daughter who is non-verbal and living with Autism, she has been much more calm and "present".  It actually soothes me and I feel 'normal'! I use it on my daughter in the evenings and she calms down, attends a lot more and sleeps so well. I have also cut her back on one of the medications that she takes for sleep and SHE IS SLEEPING PEACEFULLY THROUGHOUT THE NIGHT! This is a god-send. I keep waiting for something to happen for it to stop working. It has been about 8 days and it's still working! I love it, I love you for creating it Dori! Thank you, thank you… a million times thank you!" 
"I am a 56 yr old grandmother and didn't know I suffered from ADHD until a few years ago when I was diagnosed. I was put on Adderal, but didn't like the side affects nor the addictive properties. Being self employed my insurance does not cover prescriptions so I opted to discontinue its use. I am the office manager of our own construction company and was finding it more and more difficult to manage the day to day operations. I believe in herbal/alternative medications and have been searching for something that would work for me. I am new to essential oils which I found thru Jillee's emails and I believe I have found a miracle in a bottle! After using Jeddy's Blend for less than a week, I could tell a remarkable difference in myself. I actually start and FINISH projects now and feel I am much more organized than in the past. I use it every day and will continue to in the future. Thank You and God Bless you for all you do for others."
"Just wanted to say thank you! Jeddy's blend has been amazing. I wanted it for my son originally but I believe I have benefited more! My almost 3 year old asks for the oil durning tantrums and it calms him down a lot. I apply it to myself as well and it helps me deal with everything in a much better manner. Thank you, it's been a real life saver around here!"
"Hello Dori. I wrote you a while back inquiring about Jeddy's Blend for an almost 16 year old with testing anxiety. I wanted to let you know we've been using the blend for maybe a month now. My daughter says she sleeps so much more soundly now and rarely wakes up. Previously she would wake up 4-5 times a night. She's also been doing much better on tests at school. But the best "test" she has passed was today. She finally passed her learner's permit (driving) test. She had failed two previous times and she was so anxious. She said that once she got to the testing area she took a deep breath and felt calm and good. The night before I saw this information posted on Jillee's FB page, I looked to the sky and asked for an answer to my daughter's testing anxiety without having to resort to medications. And then this!! This was the answer for me. Thank you so much for this blend. I am going to need to order another one soon!!"
As I perused the testimonials on Dori's website today, I couldn't believe the stuff I was reading. Jeddy's Blend truly HAS been nothing short of a miracle for many people.
In addition to medication and even natural alternatives such as essential oils, there are many other self-help suggestions for adults with ADD/ADHD:
Exercise and eat right. Regular exercise helps work off excess energy and aggression and soothes and calms the body. Limit sugary foods in order to even out mood swings.
Get plenty of sleep. When you're tired, it's even more difficult to focus, manage stress, stay productive, and keep on top of your responsibilities.
Practice better time management. Set deadlines for everything, even for seemingly small tasks. Use timers and alarms to stay on track. Take breaks at regular intervals.
Embrace challenges. ADD people thrive on challenge! As long as you don't get too perfectionistic, you'll get a lot done and stay out of trouble.
Leave time between engagements to gather your thoughts. Transitions are difficult for ADD'ers, and even short breaks can help.
Put yourself in "timeout". When you are upset or overstimulated, take a timeout. Go somewhere. Calm down.
Remember that what you have is a neuropsychiatric condition. It is genetically transmitted. It is caused by biology, by how your brain is wired. or a moral failing.
The more aware we are of how many adults struggle with ADD/ADHD, the more people will be able to seek help.  Because it's definitely not just for kids anymore.
Das notícias que amamos!
Uma substância química chamada xanthohumol, presente em algumas plantas secas usadas na fabricação de cervejas e alguns refrigerantes, pode ajudar a proteger as células de cérebro dos danos oxidativos associados a demência, como Alzheimer e Parkinson.
A pesquisa foi publicada no Journal of Agricultural and Food Chemistry e sugeriu que pessoas que bebem cerveja regularmente, podem afastar a progressão de doenças neurológicas.
O Dr. Jianguo Fang, da Universidade de Lanzhou na China disse: "Na medicina tradicional chinesa, o lúpulo têm sido utilizado para tratar uma variedade de doenças por séculos. A preseAnça de uma elevada concentração de xanthohumol em cervejas pode ser associado à observação epidemiológica, tornando o hábito de beber cerveja algo benéfico".
Xanthohumol tem atraído um interesse considerável por causa de suas funções farmacológicas múltiplas, por ser antioxidante, proteger o coração, ser anticancerígeno, contribuir contra a obesidade, ser anti-inflamatório e prevenir o câncer.
A equipe do Dr. Fang isolou moléculas de xanthohumol e testou em células cerebrais de camundongos em uma série de experimentos de laboratório. Eles descobriram que o xanthohumol reduziu o nível de estresse oxidativo nas células, um processo prejudicial que é tido como intimamente ligado a doenças degenerativas.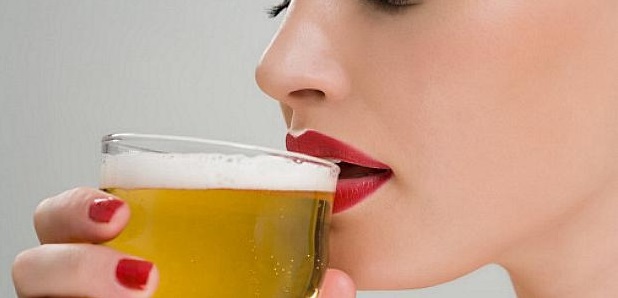 No artigo na revista, os pesquisadores disseram: "As células neuronais são particularmente vulneráveis ​​ao estresse oxidativo por ter reposição limitada durante toda a vida. Cada vez mais provas mostram que o estresse oxidativo é uma das causas de patogenias neurológicas e de doenças neurodegenerativas, tais como Alzheimer e Parkinson". "Bloqueando o processo oxidativo, torna-se eficiente bloquear ou retardar o processo que desenvolve tais doenças", concluíram.
Everyone who has fibromyalgia syndrome (FMS) experiences it differently, which is the main reason that misunderstanding and myth often surround the chronic condition that causes pain and fatigue.
Education is key to successfully managing symptoms, says Elyse Rubenstein, MD, a rheumatologist at Providence Saint John's Health Center in Santa Monica, California. Knowing the facts makes it easier to make decisions that will help you feel better.
Here's what we know to be true: 
Myth: It's all in your head.
Fact: For people experiencing the pain and other symptoms associated with fibromyalgia, the health condition is real, says Shane Steadman, doctor of chiropractic, a chiropractic neurologist at Integrated Health Systems in Englewood, Colorado. "It can be associated with headache, nerve pain, and a variety of other symptoms," Dr. Rubenstein adds. "The pain and fatigue can be severe and debilitating."
Fibromyalgia isn't a made-up diagnosis. A review of research from 1955 to 2014, published in 2014 in The Journal of the American Medical Association, described fibromyalgia as a disorder characterized by an interwoven combination of symptoms, including a heightened central nervous system pain response along with fatigue, sleep disturbances, cognitive dysfunctions, and mood changes.
Myth: Fibromyalgia is a "catch-all" diagnosis.
Fact: Fibromyalgia can take time to diagnose because the symptoms overlap with those of other illnesses. Diagnostic testing that can identify fibromyalgia doesn't exist, but the American College of Rheumatology (ACR) has established criteria to determine when a diagnosis of fibromyalgia should be made. These include having a history of widespread pain lasting longer than three months and the number of areas on the body where pain exists, among other symptoms.
Myth: Fibromyalgia only affects women.
Fact: An estimated 5 million adults in America have fibromyalgia, according to the National Institutes of Health (NIH). The majority of those diagnosed — between 80 and 90 percent — are women, but men can also be affected. Why FMS afflicts women more than men is not known.
Myth: Fibromyalgia and arthritis are the same.
Fact: "The diagnosis of fibromyalgia is not associated with a person's having arthritis or some type of tissue damage," Dr. Steadman explains. Fibromyalgia may be described by some to be "arthritis-like" because of similar symptoms of pain and fatigue, but FMS isn't truly an arthritic condition because it doesn't cause inflammation or joint damage.
RELATED: Invisible Illness: When Others Can't See Your Pain
"Pain sensation is not always associated with joint and muscle damage — it can be because of neurological imbalances," Steadman says. The NIH reports that fibromyalgia may be present when the body has a hypersensitive neurological response to stimuli that wouldn't normally be considered painful.
Myth: A special fibromyalgia diet is needed.
Fact: Eating a well-balanced diet is essential for overall wellness, but there is not a specific diet that has been proven effective for improving fibromyalgia symptoms, according to the NIH.
Myth: Complementary and alternative treatments are pointless.
Fact: Meditative movement therapies, such as tai chi, yoga, and qigong, appear to improve fibromyalgia symptoms, according to a review published in Rheumatology International in 2013. Measured improvements were seen for sleep disturbances, fatigue, and depression.
Myth: You should avoid exercise.
Fact: Symptoms of FMS may make physical activity difficult, but it's crucial to find a way to make workouts a part of your daily routine. Exercise is one of the most effective treatments for fibromyalgia, according to the National Institute of Arthritis and Musculoskeletal and Skin Diseases.
Start where you can. If pain and fatigue prevent you from a vigorous workout, begin with a walk, or try tai chi and gradually build from there. A study published in Annals of the Rheumatic Diseases in 2014 found that resistance exercise resulted in improved physical function and less pain.
Myth: You're just tired.
Fact: A review of research published in Arthritis Research & Therapy in 2013 identified fatigue as a disabling, persistent, and stubborn symptom of FMS. It concluded that fatigue doesn't occur in isolation, but is interwoven with other symptoms — and that the symptoms influence one another.
Myth: There's nothing you can do.
Fact: There is no cure for fibromyalgia, but the condition is not progressive or fatal. Symptoms can be successfully managed. "The possibility of relief exists," Steadman says.
The first step in getting that relief is to find a doctor familiar with FMS. This may be a primary care physician, general internist, or rheumatologist. Treatment options include medication, alternative approaches, behavioral therapy, and physical therapy.
FDA approved ixekizumab (Taltz) injection 80 mg/mL for the treatment of moderate-to-severe plaque psoriasis in adult patients who are candidates for systemic therapy or phototherapy.
Psoriasis affects approximately 7.5 million Americans, around 20% of whom have moderate-to-severe plaque psoriasis. Plaque psoriasis is the most common form of the condition and appears as raised, red patches of skin covered with a silvery, white buildup of dead skin cells, which are often painful or itchy.
Related: Rheumatoid arthritis drug may benefit atopic dermatitis patients
Taltz is designed to specifically target IL-17A, a protein that plays a role in driving underlying inflammation in psoriasis.
"Many people living with psoriasis are still looking for a treatment that will successfully manage the magnitude of this disease," said Alex Azar, president, Lilly USA, LLC. "With the approval of Taltz, we are proud to provide patients with a new treatment that may help patients experience virtually or completely clear skin."
Here are 6 facts you need to know about Taltz:
1. Taltz will be available in the United States beginning in the second quarter of 2016.
2. Taltz should not be used in patients with a previous hypersensitivity reaction, such as anaphylaxis, to ixekizumab or to any of the excipients.
Related: Skin cancer drug Odomzo gets FDA approval
3. FDA's approval of Taltz was based on findings from the largest phase 3 trial program approved to date—more than 3,800 patients with moderate-to-severe plaque psoriasis from 21 countries. This clinical program included three double-blind, multicenter, phase 3 studies that demonstrated the safety and efficacy of Taltz in patients with moderate-to-severe plaque psoriasis. All three studies evaluated the safety and efficacy of Taltz (80 mg every 2 weeks, following a 160-mg starting dose) compared to placebo after 12 weeks.
4. In all 3 studies, at 12 weeks, 87% to 90% of patients treated with Taltz saw a significant improvement of their psoriasis plaques. The majority of patients treated with Taltz –68% to 71%—achieved virtually clear skin and 35% to 42% of patients saw complete resolution of their psoriasis plaques. In 2 of the studies, of patients who responded to Taltz at 12 weeks, 75% consistently maintained that response at the 60-week end point.
5. Taltz was also statistically superior to US-approved etanercept at all skin clearance levels. In an integrated analysis of the US sites in the 2 active comparator studies—UNCOVER-2 and UNCOVER-3—the respective response rates for Taltz vs. U.S.-approved etanercept were 87% vs. 41% for PASI (Psoriasis Area Severity Index) 75% and 73% vs. 27% for sPGA (static Physician's Global Assessment) 0 or 1.
6. Taltz may increase the risk of infection. Patients treated with Taltz had a higher rate of infections than patients treated with placebo (27% vs. 23%). Upper-respiratory tract infections, oral candidiasis, conjunctivitis and tinea infections occurred more frequently in patients treated with Taltz compared to placebo. Serious infections have occurred. Other warnings and precautions for Taltz include pre-treatment evaluation for tuberculosis, hypersensitivity reactions, inflammatory bowel disease and immunizations.
Earlier this year, the FDA approved OxyContin, a powerful painkiller drug, as safe for children as young as 11. The approval received mix reviews from people in the medical field and concerned parents. Prescribing a strong drug such as OxyContin to children could put them at risk for addiction, an action that may haunt them in a life long battle.
One person dies every 19 minutes from a drug overdose in the United States and this increasing trend is driven by prescription painkillers. – drugfree.org
What is OxyContin?
OxyContin is the brand name for a time-release formula of oxycodone, a narcotic pain medication. It can be prescribed to individuals to relieve pain from injuries, arthritis, cancer, and post-surgery.  The drug was developed in 1995 to be used as a long time pain reliever.
The side effects of the drug include:
Constipation
Nausea
Stomach pain
Loss of appetite
Vomiting
Sleepiness
Dizziness
Headaches
Dry mouth
Not to mention, OxyContin is highly addictive drug and withdrawal symptoms can be severe.
Why was OxyContin approved for children?
Children generally have fewer options for pain relief than adults. The FDA did some studies on the effects of OxyContin in children ages 11-16 and deemed it safe enough for kids who are suffering from cancer and other chronic illnesses. Doctors should only prescribe OxyContin in children who have already been treated with opiate painkillers and require something more to make them comfortable.
What is the risk for kids?
Chronic use of opioids like OxyContin can result in tolerance for the drugs. This means that the person feels less of its effects, so increases the dosage as the body adapts to the drug. This can lead to misuse of the drug and ultimately physical dependence and addiction.
Benefits of medical marijuana for Children
The benefits of medical marijuana in adults are the same for children suffering from chronic conditions. Consuming marijuana or using cannabis products has shown an increase in appetite, subside nausea and act as a painkiller. Although smoking marijuana is not recommended by children, there are other ways they can consume cannabis to reap the benefits. Things like inhalers, edibles and oils work well for children. There are countless stories of parents who are treating their children with cannabis, mainly cannabidiol (CBD) oil.
Cannabidiol
CBD, is known to have significant pain-relieving and anti-inflammatory activity without the producing high that THC has.  For many parents, this seems to be the treatment of choice for children with chronic conditions such as epilepsy or cancer. Using the oil is a perfect way to give their kids the medicinal benefits of cannabis, without having them smoke it.
Real Life Example
Take the case of Ezra. He suffered his first seizure at 3 days old. By 3 months, he was having 300 to 500 seizures a day. Doctors treated his condition with countless medicines, but his seizures continued and the drugs left him sleeping for 21 hours a day.
Today, Ezra is down to fewer than 10 seizures a day. His "rag doll" state, as his mother described his first year as, neared an end. He began to eat; he is gained weight and was much happier. His dozens of medications were down to one – marijuana.
Ezra's family is one of the hundreds of families who moved to Colorado so they could access CBD to treat their child.  It is sad to think that a family had to pick up and move to give their child a better life because cannabis and cannabis products are illegal in most states.  But now kids can be prescribed the highly addictive drug, OxyContin? It just doesn't make sense.
There are so many amazing stories to read about how kids are benefiting from CBD oil. We recommend you check them out, especially Charlotte's story.
What are the risks of marijuana use for kids?
There is a huge debate on the long-term effects of marijuana use. Some researchers say there is no long-term effects while others say marijuana use will cause young adults to develop psychotic disorders. Little is known of the effects CBD has on both children and adults as well. However, we see benefits of using a natural, less addictive solution is best for young kids.
In an interview with VICE, Janice M. Buelow, vice president of programs and research at the Epilepsy Foundation said, "[Marijuana] is a potential treatment and those decisions need to be made between the physician and the patient. Because of the way that medical marijuana is scheduled (Schedule 1), it's hard to do research with it, and that's what needs to change".
We need much more work to be done to answer questions about doses, how can we make sure we're getting the same substance every time — the efficacy of it as a drug. The good news is, some studies are being conducted. A clinical trial of CBD in children with epilepsy is under way at New York University, a proposed study of CBD in Calgary and another looking into the feasibility of conducting a clinical trial at the Hospital for Sick Children in Toronto.
b-d-s/istock/thinkstock
La fibromialgia es un síndrome del sistema nervioso caracterizado por dolor crónico en todo el cuerpo y fatiga. Existen diferentes enfoques para tratar esta enfermedad: en VivirSalud hoy hablamos sobre los tratamientos para la fibromialgia.
Síntomas de la fibromalgia
La fibromialgia afecta a cada persona de modo distinto, y los síntomas no siempre son los mismos. Sin embargo podemos decir que la sintomatología general suele abarcar:
Dolor de moderado a severo en diferentes partes del cuerpo
Sensibilidad al tacto, temperaturas en la piel y olfativa
Fatiga intensificada (por lo que a veces se confunde con fatiga crónica)
Insomnio
Pérdida de memoria y dificultad de concentración
Dolores de cabeza
Hormigueo en brazos y piernas
Depresión
Tratamientos para la fibromialgia
khuni/istock/thinkstock
Existen diferentes enfoques para el tratamiento de esta enfermedad. Dado que los síntomas afectan diferentes áreas del cuerpo y la salud, y que no son los mismos en todos los pacientes, los diferentes modos de tratar la fibromialgia contemplan cubrir estas áreas según el caso. Algunos de estos tratamientos son:
Medicación para el dolor
En combinación con otros enfoques, la medicación analgésica se prescribe para lidiar con el dolor generalizado, reducir la depresión y ayudar a conciliar el sueño.
Este enfoque alternativo y complementario para la fibromialgia apunta a desbloquear la energía del cuerpo y a identificar alergias que puedan ser la causa del síndrome, para poder tratarlas.
Ejercicio suave
Actividades físicas suaves en el agua, u otras como el tai chi se suelen recomendar para reducir el dolor y ayudar con los desórdenes del sueño.
Técnicas de relajación
Técnicas de relajación tales como yoga, meditación y técnicas de respiración son incluidas en la terapéutica para la fibromialgia, para ayudar a lidiar con el dolor y evitar la depresión.
Jacek Chabraszewski/istock/thinkstock
Terapia psicológica
Si bien la depresión no es una causa sino una consecuencia de la fibromialgia, el enfoque psicológico con terapia cognitiva busca en estos casos jugar un papel complementario en el treatamiento. Especialmente, apunta a sostener la salud mental para no intensificar la experiencia de dolor físico.
Masajes terapéuticos
Los masajes terapéuticos son especialmente indicados en casos de fibromialgia, ya que ayudan en el dolor muscular generalizado y proveen una sensación de relajación que ayuda al bienestar general.
Suplementos nutricionales
Otro enfoque terapéutico para la fibromialgia incluye la indicación de suplementos nutricionales y alimentos específicos para estimular las defensas del sistema inmune, equilibrar el sistema hormonal y ayudar con el sueño.
Estos tratamientos pueden ayudar notablemente a pacientes con fibromialgia e impulsar la recuperación de la calidad de vida. Para más información, no dejes de leer acerca del diagnóstico de esta enfermedad: ¿cómo saber si tengo fibromialgia?
According to Testcountry, Marijuana is commonly known as chronic, pot or hash and is consumed either by eating, smoking or by soaking it in tea. Whether the human body is exposed to this plant in small or large quantities, side effects are a sure fall out. Side effects of using marijuana vary from the simple increase in appetite to much graver threats like lung cancer.
Let us explore what marijuana is capable of doing to the human body.
Effects on the regulatory system in the brain
The drug affects the chemical balance in the regulatory system and the pleasure center of the brain. This imbalance in turn makes adaptation to changes slower and starts affecting things like memory and learning ability.
Depression
This symptom is a vicious cycle as the person soon finds him or herself using the drug to get rid of the depression that has been caused by the drug in the first place.
Withdrawal and Obsessiveness
Marijuana users also suffer from severe withdraw symptoms when the drug is not accessible to them. They often have cravings that are uncontrollable and these can lead to results that are damaging.
Physical problems
Constant use of the drug increase the breathing, heart and blood rate thus leading to taxing of the body. This in turn leads to the speeding up of the aging and hence increases the risks of cancer of the lungs, strokes and heart attacks.
Pregnancy the effects of marijuana
Babies born to women like these are generally smaller with birth weights that are much lower than average. The nervous system of these babies could also be highly affected; they begin to show signs of startles, tremors and do not react normally to sound and light. They also tend to have cries that are high pitched.
Other common side effect
Among other side effects that are commonly experienced due to marijuana abuse are anxiety, irritability, anger, violent outburst, insomnia, red eyes, dry mouth and even outbursts that are violent.
Why Go Natural?
Epilepsy is traditionally treated with anti-seizure medications. But these medications don't work for everyone, and they come with a risk of side effects.
From herbs and vitamins to biofeedback and acupuncture, there are a lot of choices available. But there is far less evidence backing up natural treatments for epilepsy compared with conventional medicine.
Some alternative therapies might complement your current treatment plan, but you should always ask a doctor first.
Inside Herbal Treatments
With an increasing market and public interest, herbal treatments have soared in popularity. It seems there is an herb for virtually every ailment. NYU Langone Medical Center estimates that 20 percent of people taking prescription drugs also use herbs.
Some of the most commonly used herbs for epilepsy are:
burning bush
groundsel
hydrocotyle
lily of the valley
mistletoe
mugwort
peony
scullcap
tree of heaven
valerian
Such herbs have the potential to reduce seizures, but there's no scientific proof that they work. The FDA doesn't regulate the safety and efficacy of
supplements. Herbs sometimes cause unpleasant side effects such as headaches, rashes, and digestive problems.
While some herbs might help epilepsy, others should be avoided. These include:
gingko and St. John's wort (may interact with anti-seizure medications)
kava, passionflower, and valerian (may increase sedation)
garlic (can possibly increase medication levels)
chamomile (may prolong medication effects)
Vitamins May Complement Treatment
Along with a healthy diet, certain vitamins can help decrease seizures in epilepsy. Keep in mind that vitamins alone don't work. You should also follow your doctor's instructions to prevent a possible overdose.
The most frequently used vitamins for epilepsy are:
folic acid
vitamin B6
vitamin D
vitamin E
Self-Control and Biofeedback
Some people with epilepsy try to control their brain activity to reduce the frequency of seizures. The theory is that if you can detect symptoms of an impending seizure, then you may be able to stop it.
According to NYU Langone Medical Center, some patients experience symptoms 20 minutes before a seizure. Others might feel symptoms for several days leading up to the event, including:
anxiety
depression
fatigue
bad headaches
Self-control methods are used to prevent or decrease the intensity of the seizure once it arrives. There are varying techniques, all which require good concentration and focus. Examples of such methods are:
meditation
walking
immersing in a task
sniffing a strong odor
literally telling the seizure "no"
Oftentimes, these methods are too good to be true. The problem is there is no single technique to stop a seizure, and there is no guarantee it will work every time.
Another method involves biofeedback. Like self-control measures, the purpose of the process is to take control of your brain activity. Biofeedback utilizes electrical sensors to alter brain waves.
Physical therapists commonly use biofeedback. If you're interested in this procedure, seek a professional — don't fall for a biofeedback practitioner without credentials
Other Alternative Treatments
Acupuncture and chiropractic treatments are sometimes considered other alternatives to conventional medicine. The exact way acupuncture helps is not understood, but the ancient Chinese practice is used to help chronic pain and other medical issues. By placing fine needles in specific parts of the body, practitioners help the body heal itself.
Acupuncture may change brain activities to reduce seizures. While the practice sounds good in theory, there is no scientific evidence to prove acupuncture as an effective epilepsy treatment.
Spinal manipulations in chiropractic care may also help the body heal itself. Some chiropractors use specific manipulations to help patients control seizures on a regular basis. But like acupuncture, chiropractic care isn't widely viewed as an effective form of epilepsy treatment.
Certain dietary changes may also decrease seizures. The best-known diet is the ketogenic diet, which focuses on eating a higher ratio of fats. It's considered a low-carb, low-protein diet. This sort of eating pattern is thought to help decrease seizures, although doctors don't know exactly why.
Children generally use the ketogenic diet, and many people find the restrictions challenging. Still, this type of diet might complement other treatment measures to help reduce seizures.
The Bottom Line
Your neurologist is your best source of epilepsy information and care. The brain is a complex network. Each case is different, and seizures vary in severity and frequency. Not one single treatment or alternative remedy will work for everyone.
Many patients try varying treatment methods until they find one that works best for them. Natural treatments may complement existing medical treatment. In some cases, alternative therapies might even improve your treatment.
Despite their potential, natural treatments still pose risks. This is especially the case with herbs and vitamins, as they can interact with medications. Some "natural" supplements can even be as powerful as conventional drugs.
You shouldn't discount natural treatments for epilepsy. But treat them as separate options for epilepsy care. Take note of which methods interest you and discuss them with your doctor.